Arc Flash Warning Labels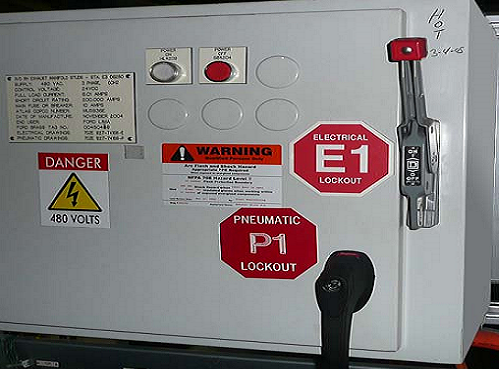 Electrical safety is very important factor in the working environment. Electric arc flash is a highly dangerous and potential risk present in every electrical system and if not paid proper attention can lead to a serious disasters. Electric flash can happen at any voltage level and the magnitude of the ark flash depends on the short circuit current present at the place and the protection operation time. Electrical labels need to be printed and pasted on the respective panels to bring the awareness in the working environment. Electrical safety checklist needs to be judiciously complied as safety in electricity is a vital aspect of maintaining a health and safety environment in the facility.Few industries practices very generic arc flash electric labels which can be printed readymade which may or may not qualify for your installations .VB recommends to conduct a thorough arc flash analysis for your facility and get the customized arc flash warning labels.
VB Engineering provides electrical consulting services electrical hazard assessment services which are also known as arc flash risk assessment services as per NFPA 70e standards. VB is among the top electrical safety consultants globally who can deliver you a dependable electrical safety arc flash solutions. Our expert services include arc flash energy calculation as per IEEE 1584 standards. Arc flash hazard warning labels will be designed as per NFPA 70e standards and include the information of arc flash category or incident energy value, flash protection boundary or arc flash boundary limits along with the other approach boundary details. As per the electrical panel arc flash incident energy calculated we will identify the flash hazard boundary and electrical arc flash protection clothing required to work on the panel. A detailed report of incident energy values, ac flash boundary calculations and arc flash PPE (Personnel Protective Equipment) required including the details of arc flash boundary definitions along with arc flash warning signs for each and every panel will be the scope of deliverables.
Arc Flash Category depends on the value of the incident energy of the electrical panel arc flash subjected to. Safety in electricity being the top priority the determination of arc flash category has to be done in scientific procedure for all electrical panel arc flash evaluation. Electrical panel arc flash evaluation procedures have been clearly defined in NFPA 70e and associated measures have been put in place for safety in electricity.
For more arc flash information please click here
Please click on below links to Know More about Electrical Safety Audits: